10 Resources to Work on Empathy in the Classroom
3 min read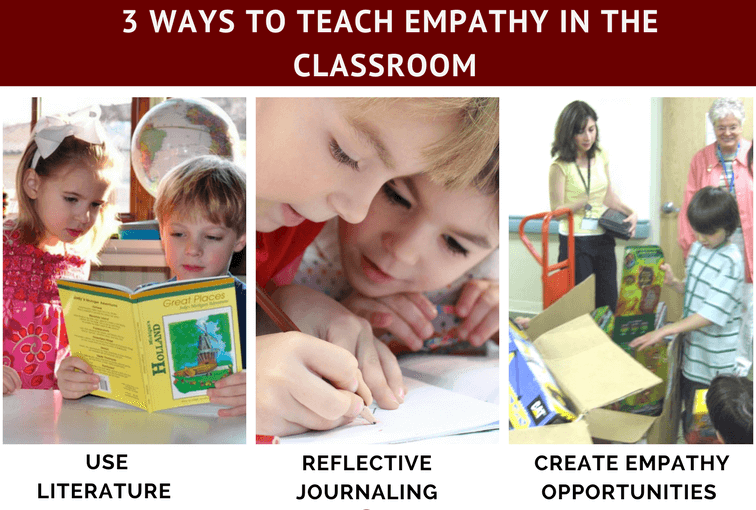 According to Daniel Goleman, empathy is a fundamental component of emotional intelligence. In fact, it is a feeling and a capacity that can be developed if you work in the right way. Being empathic means being able to identify someone's feelings, something that can help us to treat people around us batter and manage interpersonal conflicts that arise.
So, can empathy be educated? Sure! As in many other cases, the best way to work this capacity is by example, so an essential step to instill its relevance to your students is to apply empathy day to day in the educational center.
In addition, it is necessary to work empathy with exercises and specific activities. Next, we share a selection of 10 proposals, take note!
For all ages
The shoes of another: In this activity, your students should bring the shoes of someone known, be it a family member, friend, neighbor. In class they will have to walk wearing this shoe and explain how they feel in the shoes of another, trying to imagine how it feels to live the life of that other person.
The power of empathy: Brené Brown, a doctor in Social Work explains in a great short what empathy is and how it can improve the environment. It is an interesting proposal to understand the concept easily and differentiate it from others that sometimes generate confusion. Essential!
For the little ones (from 6 to 12 years old)
Cruel World:This fantastic board game has been created by the specialist in the practice of philosophy with children. It is a book-game consisting of maps and questions, an invitation to explore and reflect on cruelty and our relationship with it. The scenes proposed in this game deals with animal abuse to punishment or violence.
Pass list of feelings: This is a very simple way to work empathy. To begin, your students will have to make a list in which each number corresponds to a feeling. Thus, when you call them each morning by name to pass the list, they must answer with the number that identifies their feelings.
The egg or the chicken: The protagonist of this fun short film is a very elegant pig who makes vital decisions. Will he be able to act empathically and stop eating eggs out of respect for his new partner, the chicken? It can be very interesting to perform a role-playing game, that the students get in pairs to share how they would feel if they were the different characters in the story.
What's wrong with you? This assignment activity will help your students put themselves in the place of their classmates. Divided into groups, your students will have to ask one of their classmates a fictitious situation, and later ask questions to find out how they would feel in that hypothetical reality. You must assist students with assign ment help Sydney, while they work on the assignment activity.
For the elderly (from 12 to 18 years old)
The empathy chain: This is an advertisement that went viral in 2011 and shows a sequence in which each person helps another with small gestures. Your students will understand the importance of looking around and helping those who need it most.
Lecture by Sam Richards:Could we ever get to understand our enemy in a war? The American sociologist offers a great presentation about empathy and the current global context, an approach that will make your students think about "the others" and the different ways to end those distances between people.
Looking at life from other hearts: An emotional video of an American clinic, which is four and a half minutes allows us to know that each person has different circumstances and everyone has a story behind. We recommend that each student should choose one character and try to develop how the character feels and how he/she would react to the various facts. Would we treat others differently if we knew what they are going through?
Remember situations: This activity helps your students to be self-critical about their actions. Thus, we suggest you remember a situation in which you were not empathic with another person and another in which they were. Analyze the causes and consequences of them.
As you can see, there are tools of various types to encourage the development of empathy among your students, the ones we propose are just some of them. But, remember, the (good) example is always necessary!